Branding
Branding
Meaning Of Branding- 
Branding has been around for centuries as a means to distinguish the goods of one producer from those of another. A brand is a specific term that may include a name, sign, symbol, design, or a com­bination of these, with an intention to identify the goods or services of a particular seller.
In fact, the word 'brand' is derived from the Old Norse word brander, which means 'to bum'. Branding helps to develop customer loyalty and it is advertised by sellers under their own name. A good brand develops a corporate image. Usually, customers prefer brands as they can easily differentiate the quality.
Definition:
According to Kotler and Amstrong, 'a brand is a name, term, sign, symbol or design or a combination of these that identifies the maker or seller of a product or services'.
Significance of Branding:
Branding provides benefits to buyers and sellers.
To Buyer:
1. A brand helps buyers in identifying the product that they like/dislike.
2. It identifies the marketer.
3. It helps reduce the time needed for purchase.
4. It helps buyers evaluate the quality of products, especially if they are unable to judge a product's characteristics.
5. It helps reduce buyers' perceived risk of purchase.
6. The buyer may derive a psychological reward from owning the brand (e.g., Rolex watches or Mercedes).
To Seller:
1. A brand differentiates product offerings from competitors.
2. It helps segment the market by creating tailored images.
3. It identifies the companies' products making repeat purchases easier for customers.
4. It reduces price comparisons.
5. It helps the firm introduce a new product that carries the name of one or more of its existing products.
6. It promotes easier cooperation with intermediaries with well-known brands
7. It facilitates promotional efforts.
8. It helps in fostering brand loyalty, thus helping to stabilize market share.
9. Firms may be able to charge a premium for the brand.
Essentials of Good Branding:
1. A good brand should be easy to pronounce.
2. It should be easy to remember.
3. It should be able to attract attention.
4. It should suggest the company or product image.
5. It should be easy to recognize.
6. The brand identity should be very clear.
7. The brand name should be registered.
8. A good brand should be easy to translate into all languages in the markets where the brand will be used.
9. A good brand should suggest the product benefits or suggest its usage.
Domain Name and Hosting Setup
Domain Name, Hosting and Account Setup
Godaddy Domain Name Purchasing Steps
Open godaddy.com in a browser

Click on "Domains" in the menu

Select "Domain Name Search"

Enter the domain you wish to purchase ex: xxxxxxx.com and click on search

It lists the availability of the domain and select the domain you wish to purchase

Add to cart

Click on the cart and select the domain registration tenure (between 1 years to 10 years)

Continue to cart

Select a professional email (optional)

 Continue to cart

 Insert a promocode in "Have a promocode" (Optional)

Click on Check out

Sign In/Sign Up

Enter the  billing information

Make payment and complete
Godaddy Hosting
Go to Godaddy.com 

Click on "Hosting" in the menu
3) Click on Web Hosting – Linux
4) Under Economy, click Add to Cart
5) Select 12 Months
6) Enter your desired domain name and click on Submit
7) If your domain name is available, click on "Select and Continue"
8) Enter the Promo Code HOS1G239 in promo code
9) Create Your Account
10) Complete Payment
GoDaddy Account Setup
Login to Godaddy>Under your name>

Go to My products

Under "Web Hosting" click on "Setup"

Enter your domain name Under "What domain you want to use"

Choose Data Center "Asia"

Create a WordPress Website – Select – "Not now, thanks"

Office 365 Professional email (Optional) – Skip

It will set up your website

You must see "Onboarding completed successfully"

Click on "Go to dashboard"

 Now click on Cpanel Admin

 Locate "WordPress" in the Cpanel list of applications and click on it

 Click on "Install this application"

 From the domain, drop-down select your domain name which has "https://" element

 In settings change the "Administrator Name", Ädministartor Password", "Administrator Email Id" and "Website title"

Scroll down, click – "Instal", after installation you may exit to the dashboard
GoDaddy+VPS
To Change DNS A Record

Go to "My products" under your account name

Beside Domain name

Click on Manage

Manage DNS

Edit A record > Enter the VPS IP address by removing "Parked" and Save
Hostinger Domain Name Purchasing Steps
Open hostinger.in in a browser

Click on "Domains" in the menu

Select "Domain Checker"

Enter the domain you wish to purchase ex: xxxxxxx.com and click on search

It lists the availability of the domain and select the domain you wish to purchase

Add to cart

Click on the cart and select the domain registration tenure (between 1 years to 3 years)

Insert a promocode in "Have a coupon code" (Optional)

Click on "Check out now"

Sign up or login, click "Create account and checkout"

Choose a payment method

Enter the  billing information

Make payment and complete
Hostinger Account Setup
Login to your "Hostinger account"

Click on "Setup" beside domain registration

Finish domain registration –
Country – India

Select "Personal"
4. Enter contact details
5. Finish Registration
6. Check your "Email-Inbox" and confirm the email from Hostinger
To host on VPS(Virtual Private Server)
Login to your "Hostinger account"

Under Domain "Go to my domain"

Select "DNS Nameservers" from the left panel

Scroll down and edit "A" record IP Address

Replace it with the VPS server IP address
Now the VPS Server admin can grant access to CPanel or SPanel to install WordPress and SSL Certificate
Content Marketing
Importance of Content in Marketing
We have now created our website and the basic structure as to how our website should look and be user-friendly. The next most important topic is Content Marketing.
But what exactly is Content Marketing?
Content Marketing is a strategic marketing approach that focuses on creating and distributing valuable, relevant, and consistent content to attract and retain a clearly-defined audience and ultimately to drive profitable customer action. It is instead of pitching in your products or services you provide relevant and useful content to your prospects and customers to help them solve their issues.
Content is the present and future of Marketing.
What is the importance or why is content important in Digital Marketing?
Content Marketing is important in Digital Marketing because it answers the queries of your audience. With content marketing, you actually build trust with your audience, improve conversions, connect with your customers and generate leads. In fact, in today's age, customers expect high-quality and consistent content from their favorite brands.
According to a report, content creation is a top priority for 53% of marketers. Consistency in brand messaging is one of the many factors that determine the growth and success of your business. The outcome or importance of content marketing is
Lead Generation: Marketers now rely more on content to engage prospects/ customers in today's new buyer journey. You need to create content in a manner that educates, inspires, and demands to be shared. It should help leads overcome challenges and achieve their aspirations. If you are able to do that, leads will start flowing in, and you'll gain their trust. Trust is ultimately what creates customers out of leads.
Increased Reach and Name Recognition: When you write blogs or post on your social channels or any other digital content, you actually create something that can reach out to the consumers and establish your voice. Sometimes this happens through organic search queries and sometimes through paid advertisements. More often, social media is used to make this content available to consumers. When the content is clearly branded, it helps to imprint the brand as well as its mission, its selling point, and other key features into the minds of consumers.
Customer Development: This is the most important part of content marketing which builds the foundation for building your customer success strategy. Create personas to understand who your buyers are. Depending on your business size, you'll have a varying number of personas. The main point is to draw out similarities of buyers and group them together. This will help you segment your marketing efforts to them later on. 
Increase Audience Retention: Great content is an important asset. It has the ability to create a positive experience for your potential customers and compel them to come back for more. It's your ticket to capturing your audience's attention and continually reinforcing a positive brand impression.
How To Blog
How to Blog?
We in our website have created a Blog page. Why is it so important? Any idea?
Well, blog gives you the opportunity to create relevant content for your customers. We use this as a marketing tactic to drive traffic back to our website. It also increases your SEO as fresh content is the key to beat out your competitors and rank high in the search engine results page.
An article which is rich with content reflects your company as an industry leader and by posting blogs related to your market and industry showcases your knowledge and at the same time you are marketing your product / services too. It also provides another source to strengthen your bond with your customers. By connecting directly to your website the customers / buyers get to know more about your business, products / services.
We got to know that Blog is an important part of our website but how to blog or how to write an effective blog post?
The things that you need to consider are
Understand your Audience
Start with a Topic and Working Title
Write an Intro
Organize your content
Write
Let's understand each one of them in detail
Understand your Audience: Before you start writing you need to have a clear understanding of your target audience. You need to understand what they want to know about. What would affect or appeal to them in a personal or emotional way? This is where your buyer persona will be helpful to you.
For example, if someone wants to know about how to start their own business, you don't have to provide them with the information of getting started in social media, probably they would know about it. Instead, you could give them information about how to adjust their approach to social media from a more casual or personal one to a more business-savvy and networking-focused approach. This would make you different from writing generic stuff to the stuff your audience wants to hear from you.
Start with a Topic and Working Title: You need to pick a topic for your blog post and to start with this could be a general topic. A Working Title is specific and will guide your post so that you can start writing. 
For example, if you are a plumber and you want to write about leaky faucets. You can come up with a few different working titles which mean different ways of approaching that topic which would help you focus on writing. In this case, you could narrow down your topic to "Tools for Fixing Leaky Faucets" or "Common Causes of Leaky Faucets".
Or have a swipe file. 
Write an Intro: Always remember to write the outline and then start expanding it. Your first aim is to grab the attention of the reader. If you lose a reader in the first few sentences or paragraphs of introduction then the reader would stop reading and they would have not given your post a fair chance.
Grabbing the attention of your reader can be done in many ways, like you can tell a story or joke, be empathetic or grip the reader with an interesting fact or statistic. Then, you describe the purpose of your post and explain how it will address an issue the reader might have. This way the reader gets connected and it gives them a reason to continue reading your post and helps them to know how it will improve their work/lives.
Organize your Content: Sometimes blogs can have so much information for the reader and writer, which you need to organize in a way so that the reader doesn't get scared or alarmed by the length or amount of content. You can organize it in different ways by putting it in sections, lists, or tips whatever is more appropriate.
Write: Now as the outline is created you can start expanding on all the points as needed. Write about what you know and if required do more research to gather more information, examples, and data to back up your points. Always provide proper attribution when you incorporate external sources.
Create Videos
How to Conceptualize and Create Videos?
We have seen how content plays an important role in ranking of the website in the search engine results page where blog is a part of written content. But do you know that apart from the text format people prefer videos as well.
In fact, of late Video marketing strategy has changed the whole scenario. Video marketing strategy is not what it used to be a few years back. Today, it is more serious and much more effective. Many businesses are using this tactic to stand out of their competition in order to achieve their goals.
Why Video? Because it works and will keep working.
Adding a product video on your landing page can increase conversions by 80%.In fact 83% of businesses say that video provides a good return on investment. Even though video production is not yet the easiest nor cheapest task, it pays off big time.
Video content engages us and ignites our emotions. And when we talk about elite people in the audience, YouTubers have become the most powerful social media figure to promote your brand.
Here are some more video stats to convince you about the power video holds on the web:
82% of Twitter users consume video content on the microblogging site.
92% of mobile video viewers like to share them with other people.
87% of Internet marketers leverage video content to meet their business goals.
Videos allow you to increase the time spent by visitors on your site. Thus, longer exposure builds trust and gives signals to search engines that your site has good content. A video is a great tool for learning. The modern customer wants to see the product in action. Video preference is one of the most important driving forces of using video in your content marketing.
How do you Conceptualize and create videos?
When conceptualizing a new idea, it is essential to direct the thinking to specific dimensions and search answers to certain questions to help evolve the idea from the initial thought through the various stages of innovation. 
The power of the concept behind every successful innovation is evident from the success of Apple. Steve Jobs did not just create sleek devices but conceptualized an ecosystem that included iOS, carrier and music label partnerships, iTunes, and App Store.
When conceptualizing an idea, it is essential to ask questions like what is the problem that the idea solves, who is the consumer for the idea, does the idea solve the consumer's problems and how will the solution be delivered to the consumer. It is very important to direct the thinking to specific dimensions and search answers to certain questions that help in evolving the idea from the initial thought through the various stages of innovation.
Create infographics
How to Create Infographics?
We have understood about Blogs and Content videos. There is one more form of content which can be used to drive in traffic and that is Infographics.
What is an Infographic?
An infographic is a collection of imagery, charts, and minimal text that gives an easy-to-understand overview of a topic. Infographics are great for making complex information easy to digest. Infographics are far more fun and engaging than plain text. They can be helpful anytime you want to:
Provide a quick overview of a topic
Explain a complex process
Display research findings or survey data
Summarize a long blog post or report
Compare and contrast multiple options
Raise awareness about an issue or cause
When you need to give someone a really quick rundown on something that can be hard to explain in words alone, an infographic is a good way to go. This means that infographics can be useful in pretty much any industry.
Why is it important?
Infographics are a clear, effective and artistic way of presenting information without losing the attention of the viewer. In this fast paced, modern age, people are flooded with information every day and attention spans are decreasing by the second. 
It can be difficult for people to keep in mind everything. Infographics are used as a powerful tool to allow people to easily digest information through the use of visual data, charts, and statistics. With the proper use of color, proportion, and negative space, information can be transformed into memorable, attention-grabbing and even persuasive graphics.
How to Create Infographics?
It's a 5 step process to create an Infographics.
Outline your goals to create your infographic
Collect data for your infographic
Make data visualizations for your infographic
Create your infographics by choosing your template
Add style to your infographic design to make it stand out
Effective infographics convey lots of data and information in a relatively small space. They extract the most essential facts and figures and deliver them in a relevant way. Infographics go beyond telling people about your brand. They demonstrate your value and knowledge in a meaningful manner.
Once your infographic is posted on your website and shared via social media, it can generate backlinks that are essential to driving SEO.
Case Study
Coca-Cola goes viral
Even household names like Coca-Cola rely on content marketing to support their brand and boost customer engagement. With soda sales steadily declining over the past decade-plus, the iconic soft drink manufacturer has fully embraced digital channel outreach to help turn the tide back in its favor.
Coca-Cola's content marketing strategy has its roots in the brand's "Content 2020" campaign, which dates all the way back to 2012. That initial foray into the world of content marketing pushed brand stakeholders to move away from relying on typical 30-second TV advertisements, ubiquitous signage, and the odd blockbuster Super Bowl spot to capture an audience.
The idea was simple: Create compelling content to help build a digital presence and engage consumers on a wider variety of channels. How the brand went about achieving that goal was a little more complex.
It created a network of guest bloggers to contribute to its site, cultivating young, exciting talent to help reach new audiences. The brand launched unique promotions and giveaways on different platforms, including a dedicated mobile app. It really took advantage of just about every conceivable form of media at its disposal. In one of its riskier moves, Coca-Cola distributed video camera-equipped bottle openers in Pakistan and India to encourage customers to upload their recordings on social media and highlight the shared experiences that people on both sides of the countries' decades-long conflict enjoyed.
The idea was simple: Create compelling content to help build a digital presence and engage consumers on a wider variety of channels.
Perhaps the most visible strategy Coca-Cola has embarked on has been its "Share a Coke" campaign, which initially launched in Australia in 2011. The brand took the concept of personalization to its natural endpoint, designing special bottle labels featuring one of the 150 most popular names in Oz at the time. The campaign encouraged customers to give the monickered bottles to friends and family as gifts, track down products featuring their own names and share pictures and videos on social media networks. Coca-Cola even incorporated those customer experiences back into its marketing and advertising.
"Share a Coke" was a massive success Down Under, going viral and helping the company move 250 million bottles and cans during its first summer. That's roughly 10 units per Australian resident, for those keeping score at home.
Coca-Cola subsequently rolled out the campaign to other markets with similar results. The "Share a Coke" project has often been credited with helping the brand reverse its declining sales figures.
The takeaway
In short, the brand left no stone unturned. It wasn't afraid to roll the dice on out-of-the-box ideas while still supporting a solid digital marketing strategy. And while we all don't have the resources that "big pop" has to invest in such wildly ambitious projects, we can still learn from that willingness to experiment, commit to a strategy and see it through to the end.
That can include incorporating new forms of media into your inbound marketing strategy. Mobile apps, podcasts, quizzes, interactive infographics – it's all on the table. Don't be afraid to try something new with your target audience. It could just be the best thing to ever happen to your digital marketing strategy.
Seo Audit
SEO Audit Process
We have understood what SEO is. How the Search Engine ranks a website. The next step is to start the optimization process. The SEO is a 7 step process of which the first step is the "Website Audit and Competitive Research".
What is the meaning of "Audit"?
 Audit in general terms means the examination or inspection of books of accounts to find out the accuracy of the financials of an organization. Here, in Digital Marketing it's similar, we diagnose or inspect the website through various factors/parameters to see its present standard in the search engine and rectify wherever there's an opportunity to optimize. 
We gather or identify all these details 
The Website Audit is divided into 4 factors.
Site-Level Factors
Off-Page Factors
Technical Factors
Local Factors
Site-Level Factors
Under these factors we collect details such as the number of active pages in the website, whether the website has a Blog page or not as this plays a vital role in the google ranking, if it's SSL Certified, whether it's mobile-friendly or not,  the age of the domain/website, the domain authority of the website (as in what is the ranking given by the search engine for the particular website). We also find out what's the organic traffic, their current ranking keywords, their ranking in their country of origin i.e., Alexa ranking, their target keywords ranking and whether they have sitemap and robots.txt. Let's see each of them in detail.
Total Pages: Here the total pages means the total number of active pages need to be checked. This data is collected by using a tool called Screaming Frog. Please look for this in the search and download it. Once the download and installation is complete open the app. Here we put the url of the website and click on "start". This initiates the process of crawling. The screaming frog crawls the website and gives the details of the number of pages in your website. Although it's a free version, the screaming frog crawls only upto 500 pages which is apt for us currently.  Once the crawling is completed 100% you need to click on html pages on the left top corner as that is what we need to gather the data for. To get the details of the number of active pages you need to check the status code which is listed out there. The status code '200' represents the active pages. You can see other codes as well where '404' represents the 'not found' pages and 302 represents 'that particular page has been redirected'. Now click on the arrow key on the status code to arrange the data code-wise and select all the cells showing '200' code. Now count the number of cells that code is present in and put that in the sheet shared with you.
Availability of Blog: This being one of the most important factors for the ranking we need to check on the website if they have a Blog page and put your remarks accordingly in the sheet.
Age of the Domain: This data is collected to know the age of your website and this can be checked with different tools. One such tool through which we can check online is the 'whois.sc'. There's a link provided in the sheet please click on it, place the website url and click on search. Under the dates section check the details and fill in the sheet.
SSL: What is an SSL Certificate and what is the full form? SSL stands for Secure Sockets Layer and it's a technology for keeping an internet connection secured and safeguarding any secured data that is being sent between two systems. It moves a website from http to https. You can identify if a website is SSL certified or when you see a lock sign near the website url. So, let's check that and update in the sheet.
Mobile-Friendly (Responsive):  Here you need to check if the given website is mobile-friendly or not. You need to check the load time, whether it's responsive and the mobile view of the website. Is it clearly visible or are there any hindrances etc.
Organic Traffic Per Month: This factor is to check how much traffic does the website attract organically meaning without using any paid advertisements. There are various tools to check that but the most commonly used is Ubersuggest by Neil Patel. He is a New York Times best selling author. He is one of the top 10 marketers and a top influencer. He has developed a tool by the name of Ubersuggest. So let's take his help and login to ubersuggest by putting in the credentials mentioned in the sheet. Once you login, you will find a list of options on the left side, click on 'Traffic Overview' put in the website url select the country and click on search. You will get the data for Organic Traffic per month.
Currently Ranking Keywords: This is to check for what organic keywords is the website being ranked currently and how many keywords are ranked in the range of 1-3 and 4 to 10. This is checked in Ubersuggest. Once you are in the traffic overview section you will see the organic keywords click on that and look for the 'export to csv' option. Download the csv file and sort the data to find the results we are looking for.
Domain Authority: This is checked to see how your website is placed or ranked in the search engine results page. This is developed by MOZ and the ranking is given from 1 to 100. The higher the rank the better your website is placed in the search engine results page. We can check this with the help of 'small seo tools', click on the link which is provided in the sheet to get the result.
Alexa Rank: It's a third party marketing tool to measure website traffic. It gives you the data of how much traffic you had in the past 90 days. The data can be collected for worldwide or country wise. To check this data the link is provided in the sheet. Please click on that, put the website url and click on 'Run Analysis'. Once you get the data click on 'Traffic Metrics' and select the country 'In India' to get the data.
Target Keywords: These are the keywords for which the website should be ranked for. Generally, these keywords are provided by the client, however, in the absence of data we collect it by going through the website and understanding as to what are the services and products of a particular website and make a list of keywords which are relevant to the website. Then we check the traffic volume and the search difficulty of such keywords to make our decisions. Search difficulty of a keyword helps you to understand how difficult or easy it would be to rank for that particular keyword in the search query. The difficulty is based on the search volume and how common the keyword is. Again, here too we divide the ranking of the target keywords in 3 sections, the first being from 1 to 3, next 4 to 10 and last is 'above 10'.
Sitemap.xml: This is basically a roadmap that leads Google to all the important pages on your website. Like you prepared a sitemap to place or create in your website, this is to tell Google as to what all pages and when you want Google to crawl. For example, you have a products page which gets updated every week so you will inform Google that you have a products page which you want google to come back every week and recrawl so the fresh data is collected and indexed for better ranking in the search results.
Robots.txt: This is a txt file which instructs the search engine robots how to crawl pages on your website. They indicate whether or not to crawl pages in your website. These instructions are given by using the words Allow and Disallow. We here check if any user has by mistake disallowed the crawling of the whole website as that would stop the search engine to visit that website.
Off-Page Factors
Under this section, we find out about Linking domains i.e. your referrals and backlinks. What are backlinks? A backlink is also known as inbound links. Backlinks are links from one website to a page on another website. Google considers these backlinks as plus points for a website and the pages with a high number of backlinks increase the google ranking. 
Why are Backlinks important? Well, this actually tells Google that the content in that page is valuable and informative. This is another important factor that plays a role in ranking your website. But, one thing that you need to remember here is that you should have quality backlinks. If it's coming from trusted and authoritative websites the ranks are affected accordingly.
Now, under backlinks we have "Do follow" and "No follow". As the name suggests the do-follow allows the search bots to follow that link and the no-follow doesn't allow the search bots to reach your website. Hence, to rank better you need to have more of do-follow links. Let's check the factors in detail.
Linking Domains:  This shows how many referrals your website has and these can be checked in Ubersuggest. In the 'Traffic Overview' you will see the data labelled as 'Backlinks' click on that and you will find the 'Referring Domains' data.
Total Backlinks: As we spoke about backlinks here we check and collect the data. To do so, be on the same page as mentioned above and you will get the data under 'Backlinks' which represents the total number of backlinks. 
Backlinks – Do Follow: This data is gathered by subtracting the no follow links from the total backlinks.
Backlinks – No Follow: We have discussed this term already now it's time to find out the data. This you will get in the same section as 'Total Backlinks'. If you see under 'Backlinks' data you will find 'No follow' links' data.
Technical Factors
Here we audit/analyze the most critical part of your website. We try to find out on the missing pages or duplicate content in your website or are there any duplicate meta descriptions or no meta descriptions, are there any pages without H1 or if any of the pages have poorly formatted URL or if any pages have a low word count. We will be practically working on all these factors. Let's now see each one in detail. 
To check these factors we use Ubersuggest. In Ubersuggest you need to have a paid version to check such issues. Let's login with the user credentials provided earlier. Now on the left side panel go to Dashboard and click on 'New project' and put in the website URL, enter the county/city, give the keyword put in a competitor's website URL keep moving next and you will get the data on the dashboard. Now click on 'see more' and again click on 'view all' under 'Critical Errors'. Now, under 'All Issues' you will get the below data.
Missing Pages(404): The 'Missing Pages' has a code of 404 which we discussed when we were checking the Total Pages in the Site Level Factors. This data can be either collected from Screaming Frog or from Ubersuggest. In Ubersuggest under 'All issues' try to look for this data in case they have any missing pages it will show the number else it will say 0 pages with this error.
Duplicate Content: This is to check if any 2 pages have the same content. Ideally, none of your pages should have the same content as this is not acceptable by the google search engine. Hence, we check this to know if in case there are any we note and give our recommendations.
Duplicate Titles: What is a Title? A title is a content that specifies a webpage. It gives an idea to the user of what that page contains. Hence, this is checked to see if there are any duplicate titles in the website.
Duplicate Meta Descriptions: What are Meta Descriptions? They are elements which summarize the contents of your page. 
Page with no H1: Every page needs to have a Heading. We have 6 headings which are from H1 to H6. H1 is the main and most important one.
Pages with no Meta Descriptions: As we check for Duplicate Meta Descriptions we need to check if there are pages without meta descriptions as well, because a page without the description would affect the search engine ranking.
Pages with Poorly Formatted URL for SEO: The another important aspect in SEO is the URL structure. We need to ensure that the website architecture is structured and grouped together accordingly and the URL showcases that structure. 
For example, if your website offers digital marketing services the URL structure should be emblixsolutions.com/services/digital-marketing-services. 
So here we check if there are pages which have poorly formatted URL.
Low Word Count: As discussed earlier each page on our website should have a minimum of 300 words, here we check if there are any pages with low word count as that affects the ranking.
Local Factors
The last but not the least is the Local factors. Here, we check if a business is having its local profile made in Google My Business account in order to tap the local market. We also find out in which all social channels they are present and if the information and details provided have regular updates or not. Let's see these in detail.
Local Business Profile: Here we check if the website has a Google My Business account. The profile information, how frequently have they updated their local profile, if there are latest photos and finally the reviews and ratings.
Social Profiles:  Whichever Social channels are created by the Company we need to check the profile information mentioned if the social profiles are updated regularly if the photos are regularly uploaded and finally the review and ratings of each and every social profile.
On Page Seo
On Page Recommendations
Since we have the flavor of how to perform a page analysis audit, we go ahead to do the optimization of each page's elements. We have a template designed for On Page Recommendation.
Website: This will be the domain name of the company that we are auditing.
Page: The page link that we are going to audit.
Focus Keyword: From the keyword research we finalize focus keyword and other best possible keywords. In many cases the clients provide the focus keyword and other keywords they would want to rank for. We enter them as well and highlight wherever it is recommended to use.
Note: We select the "Focus Keyword" which fulfills the SEO Focus Keyword Criteria.
Relevancy
Good Search Volume
Search Difficulty
Note: Use the color codes recommended to use in the template
URL: Optimizing every page URL with keywords incorporated with a proper structure and not exceeding 120 Characters helps.
Note: A homepage need not have Keyword URL as it talks about what the entire business/website is about
Ex: If the page "Courses" in digital marketing on admconsulting website needs to optimized and the "keyword" is courses in digital marketing
The URL must be optimized
.
Title: It is also called as Meta Title which is present underneath the URL on the search engine result and also when we hover the cursor on the tab in a web browser.
Where can we see as a Digital Marketer? We can go to the page source by right clicking on the page and select "Page Source". Title will be present under a meta tag named
Off Page Seo
Off Page Optimization
We have understood the on-page optimization with the recommendations. So wherever possible we need to put the hyperlinks to your internal pages, as we need to increase the traffic to other pages as well. And if possible if there's a link to another appropriate website we should give the hyperlink. To enhance the value try adding images and videos including your blogs. Images and videos make people spend more time on your website and understand the concept you are trying to put forward in a better way.
How much time do we spend in reading? Try to read more in order to get more ideas and details and post reading sharing and giving reviews is also important. Reading will give you knowledge on how to write and what's going around your subject. So, try spending One hour daily reading. Read, write and connect that's all you need to open up a lot of channels for you. Initially we can talk about what we read and slowly you will be able to write your own original content.
So, until now we have understood the concepts of Audit, Website Structure, content, Keyword Research, On-page Optimization. Now we move on to Off-page optimization.
Now we have taken care of the website by optimizing it but that is not enough. We should also get references from other websites as they carry weight. Other websites should give links to our website, they should talk about us. How do we do that? The composition varies, some people say on-page is 75% and off page is 25% or some say the vice-versa. They say if the content is strong people automatically will give reference to your website.
When somebody refers to us, how they are referring is also important. The text inside that link is called anchor text. The referral should also include a keyword. When our content is good and people automatically refer to us is one part but that is not enough. So, we can also manually approach people. Some people approach Admconsulting for putting in their article on the DR website so they can get reference for their website. If the content is related to the DR website would we consider? Yes, we would as the content is related and we need to keep posting new blogs. It is a win-win situation for both. There might be a slight advantage as Google will understand that we are trying to help and refer to good websites. So, the more links you get the better as Google keeps a watch on this and the next time someone is looking for some similar requirement Google will show this company on the search pages as other people are also talking about it.
Let's take an example of a new company who is producing masala powder. Now this company wants to increase their backlinks. So, who all will they approach? All the websites who talk about cooking. So, say Harika has the website of cooking now this company will approach Harika saying your website has good information. We can write an article about healthy tips on the masala being used in the recipes. All you need to do is just give a link to their website. So, would you consider it? You would check all the content and see if that company website is good and you get the feedback that it's good so you go ahead and publish this article. So what happens next? There are say 1000 visitors on your website and they read this article, they find the link to that new company's website and they click on that, which means the new company's traffic increases and all this is seen by Google. It sees that this website is getting many links from different websites around the keywords masala and related stuff and when somebody enters some similar keyword Google will give this website in the search results. But there are some conditions. What are those? This website should have certain levels like it should not be too young, a min level of domain authority, spam score.
So, whenever you are getting a link you should check if it's from a good website. Just because you are getting free content you should not accept it as that will devalue your website and affect the rankings.
From the above image, points 1 to 4 will give you high quality links and 5 to 9 will give you a little low-quality links but we need both of them. The first 4 will take a lot of time and effort. The 5 to 9 are fairly easier. The first 4 will mostly give you a "do follow" link. Anyone remembers what is a "do-follow" link? 
Digital PR (Editorial)
By default, when we add a hyperlink in our website / blog it's a do-follow link. We are not restricting google and are trying to convey to google that we know this guy. But say you don't want to openly give this link so you would specify "rel=nofollow". For people it will be visible normally and when they click on the link, they will go to the other website but Google will not be able to see this link when we specify no follow. Any idea why we do that? This is done when you like a particular blog post of that website but the website is not good that's when you give no follow link. If you don't give no follow Google might think that you are giving links to bad websites and that may affect your google rankings. That's why when you create links on social platforms or user generated content there's always a no follow link because they don't know all the websites and trust. 
But how do we get open do follow links? For other people to trust us and give open links, they need to know about us, we should have established a relationship. They should see our value. That's why a do-follow link takes time, sometimes even money. For example, somebody writing a story about you featuring you on their website, they mention your brand. Say if Times of India talks about your brand on their online version, in one of their articles and include a link to your website. So, what will happen is the rankings will improve and traffic will increase. But why and when will one talk about you? When the content is good or when we do something great or newsworthy like we have been funded or we invest or innovate or create jobs then they would talk about us. Such online newspapers or publications or blogs at any point of time this is the best link you can get from any other website. When somebody talks about you and gives an open link and that somebody is very popular. 
For example yourstory.com and and inc42.com Yourstory generally talks about entrepreneurs' start-ups or you must have heard about social samosa. They talk about brands, campaigns and many other things and when they talk, they give links. Why is it so important, do you know their visitors? This is one place which gives you details "similarweb.com". If such a website publishes your story continuously what happens? These millions of people will see your website and because you are getting a link from such a website Google will think that your website is great and that increases your ranking. But why would they write about us? You need to have story. So, when you have a brand you need to create story. The story needs to be such that it should be newsworthy say if we want them to talk about Adm consulting what do you think could make us go onto their business page? For example if we say Adm consulting wants to transform 10,000 lives in the next 1 year so its realistic and can be considered. These are things the PR people do so what we are talking about is online PR, we create a story and get in touch with such websites and our story is published. Just imagine what will happen? Our brand will become visible at a larger extent and your brand value will increase. It requires relationships with authors, publications or people who write for these publications. 
Apart from what we discussed there are more techniques if you want to build links.
Competitor Link Analysis – You have a competitor they have links so you can analyze from which sources they are getting and you can try and get from them, but how do we find these Competitor Links? This you can get to know from Ubersuggest. [ Show them the backlinks by logging into the Ubersuggest account]
Broken Link Building – Say for example Adm consulting has a blog post and has given a link to another website but after sometime the target website has changed their URL and when a user clicks on the link provided in our blog it goes to the error page. Now another person in the same industry has identified this and approached Admconsulting by mentioning that there is a broken link and they would want to place their website link on our blog. How do we find the broken links? Again, in Ubersuggest or in Screaming Frog – we found the 404 pages while checking the critical errors it's the same.
There are certain tools which will help us find these people who can talk about us. One such tool is Buzzsumo. You can get Competitor Analysis 
Guest Blogging
In Guest Blogging we need to develop the content. Once its ready you need to identify and contact suitable bloggers / websites where your content can be posted. You need to ensure that you contact and Follow-up those bloggers / websites until you are able to post it and once done promote that story on all possible channels.
Follow up is the key for points 1 & 2. So when you get a request for guest blogging how do you find out whether the website is good or not? We check in ubersuggest their traffic and check their domain and page authority.
Get links to your Blog posts / Resources
Here you need to identify suitable blogs where your article can be linked from. Then send a request for link(s). Follow-up until you get the link.
Create and Distribute Infographics 
What is infographics? Infographics are an image representation of a topic to communicate the information quickly and clearly. Example of Infographics
What is a hashtag? Tag is to make your content identifiable; we use different phrases to identify your content. If we use a hashtag with the phrase it becomes a link and when you click on that link all the content that is tagged with that specific tag will be displayed. So, hashtag is a way to organize or make your content discoverable. So, when you use a hashtag on your website you are classifying your content. 
What concept do you want to make an infographic on? What's the advantage of creating infographics? 
Always create Infographics with highly interesting and valuable data/process Distribute across all major channels and approach other websites to publish the infographic on their website. If its relevant you can generate traffic as infographics give instant information.
Answering Questions on Quora
Is anyone active on Quora? Discovering answers is easy and quick here. Also, because of the value of content in Quora Google likes to pick up answers from quora and display it in the search results. All you need to do is identify relevant questions, build answers and incorporate links to your blog. So Quora is another important place apart from LinkedIn where you can be active. So you can identify questions, showcase your knowledge by writing on whatever you know and give links/ references to other websites which genuinely have details related to that question and slowly you can give links to your own website. Start looking into the questions in Quora and target LinkedIn, be active and make your presence. The only thing that you need to keep in mind is when you are writing you don't just advertise, you need to help and people like good answers. You also get ideas for writing blogs from Quora. For example, you have an idea on this topic "What are the SEO tools people use", you can write a blog on this and come back on quora, reply to questions and give a link to your blog.
Commenting on Blogs
Have you ever seen or experienced when you read a blog at the bottom you see comments section?  Suppose you have relevant information related to an article you can always post it in the comments and give a link to that website which has more information. Some people may ignore it, some may like it and some may not accept it as they would think it as a competitor. So, when you post a comment they would check and verify and if they feel appropriate only then they make the comment visible on the page. You guys too have a comment section in your blogs where people can comment. Just to be sure that there are no irrelevant comments you filter those and then make it visible. "Disqus.com" is a site where you can link your website and all your comments land here then you can filter them by accepting it or deleting it and enabling it on your post.
Social Sharing
Whatever you are creating you need to share it on your own official social channels first. Where all do you think you can publish? FB page, Instagram it doesn't give links on the post only when you advertise then it gives links, you can share it on Twitter, Pinterest, Medium.com (Medium is a website where people publish their content. They charge to read as it's a premium content), Reddit is a community where a lot of people collaborate, they share, they discuss and promote articles, there are discussion forums like Quora. Whenever you publish something it has to be seen, propagated so it gains an audience, attracts traffic. We call this as Social Sharing or Social Bookmarking. What are Bookmarks? So, when you like a website or article you share so you bookmark it publicly. "Mix.com" is one such place where you can save your bookmarks. By placing your content in these resources, you are increasing your chances to be found. We need to make ourselves visible only then your traffic increases. But there is one more thing to be kept in mind – you need not share in all possible platforms that you find. Try and see where its working and then you keep sharing only in those channels. There's Tumblr which is a blogging tool wherein you can create short blogs. Here also you can share it and give links to your website. All these places you need to have followers to make it work effectively only then it would work. You create community and then share so you drive traffic to your website.
Submitting in Niche Directories
A directory is a collection of websites like webdirectory.co.in. Although, today the structure is changed and we don't need to use the directories as we have powerful search engines but earlier people were dependent on these directories as there were no powerful engines those days and they had to go through such listings to find a website. You would go to 'Add a Resource' to add your website. Some of them have paid versions and some are free. What is the use of submitting in these directories? This would increase our backlinks however Google has stopped considering such directories until and unless there are any such popular websites and is specific to your industry. They visit industry specific directories like Sikhsha.com and for Real Estate there is realestateindiaonline.com for hospitals and doctors there is http://www.doctorsdirectoryindia.com/hospitals. So always remember to place your content where real people are visiting. There was a time when everyone started submitting in all the directories and suddenly Google released an update that if their listing is found in wrong directories they will be penalized and people started paying to remove their links. So always check and then accordingly submit in real and appropriate industry specific directories.
Create and Optimize Local Business Profiles
If you have a local business it is very important to have your Google My Business account. Once you enter the details and pin your location on the map, they would want to verify the location by sending a postcard or verify through a video call and then they would approve it. Why this is important because you will start ranking in local search results in that specific location.
Whatever and wherever you set up you need to ensure that 3 things are kept the same – Name, Address and Phone number. It should be consistent across all your profiles – website, local profiles as that will create uniformity and enhance the strength. 
Seo Tools
SEO Tools
Top SEO tools in 2021 for a digital marketer.
Google Search Console
Ahrefs
MOZ 
SEMRUSH
Ubersuggest
Yoast 
Rankmath Plugin
Google Search Console- 
Google Search Console is an entirely free service developed by Google. It's a search-engine based SEO tool that anyone can access. This tool makes it easier for website owners to monitor their search presence and better decide how to improve their SEO strategy. Since it's a free tool, it's worthwhile for website owners to check it out and play around. Here are some of the best features of Google Search Console:
Detailed keyword analysis of a website's ranking keywords
See the number of impressions for specific search queries
See which search queries are resulting in clicks
Receive alerts related to website and search issues and get recommendations for suggested improvements
Find ways to improve the mobile-friendliness of a website
Submit new web pages to be crawled and indexed by Google and submit requests for the re-indexing of updated pages
See what websites link back to yours
Submit sitemaps directly to Google
PROS & CONS-
PROS- 
It's completely free to use
It's a feature-packed tool
It's user-friendly
CONS-
It's not as advanced as some paid SEO tools
Ahrefs- 
Ahrefs is an all-in-one SEO tool that can help users improve their rankings and web traffic. This software is web-based and has many capabilities. A variety of monthly membership plans are available from $99 to $999 per month, and there are discounts for annual billing. Online support is available during business hours.
Here's a look at all of the tools available with Ahrefs:
Site Explorer: Allows users to look at the search results and the traffic profile of any website
Site Audit: Allows users to analyze a website's on-site performance
Keywords Explorer: Allows users to generate keywords, analyze keywords and calculate their traffic potential
Content Explorer: Allows users to find content and analyze top-performing content in their industry
Rank Tracker: Allows users to monitor rankings and compare them over time
PROS & CONS- 
PROS- 
Offers many tools, including keyword research and keyword tracking tools
Integrates well with many other tools
Makes it simple to do competitor research
CONS- 
No free trial is offered
The cost can be expensive for bigger teams
MOZ-
Moz Pro is a big name in the SEO software world. It's a well-known tool with a lot of capabilities. Keyword research and keyword tracking tools are available, as well as competitor research and page view tracking tools. The software has a user-friendly layout. The standard subscription cost for Moz Pro is $99 per month, but packages with more features and capabilities are available priced at up to $599 per month. A free trial is available. This tool integrates well with HubSpot Marketing Hub, SEMrush, Bizible, WooRank and Ahrefs. Here are some of the best features of Moz Pro:
Discover new keywords and prioritize the right keywords with the included keyword research tool
Find website and SEO errors and get suggestions on how to fix them
Track keyword rankings overtime to make more informed SEO strategy decisions
Improve your link building strategy and avoid making poor link choices with the included link research tool
Gain valuable insight into your competitors
Create custom reports from gathered campaign data
PROS & CONS- 
PROS-
The layout and design is user-friendly
It's a great all-in-one SEO software solution with many capabilities
Excellent support and training
CONS-
It can take time to learn how to use certain features
It can get pricey for larger teams
SEMRUSH-
SEMRush is a web-based SEO software solution. It's perhaps one of the biggest names in the SEO software industry. This software includes many features and capabilities. Users can improve their on-page SEO, do extensive keyword research, improve their link building efforts, keep track of their keyword rankings over time, optimize their content and analyze their competitors. SEMRush integrates well with WordPress, Trello, Majestic, Google Analytics, and Google Ads. While this software charges a higher subscription fee than other brands, it's reputation and feature-packed offerings make it well worth the cost. Here are some of the included features:
Do a thorough SEO audit to see what improvements can be made
Monitor website backlinks to improve backlink strategy
Take a look at competitors' backlinks
Do topic research to get new content ideas
Plan out content with the included editorial calendar
Find valuable keywords
Keep an eye on keyword rankings over time
Check on-page SEO rankings
PROS & CONS-
PROS-
It has an extensive amount of features and is a good all-in-one tool
Has a user-friendly design
Includes great competitive analysis tools
CONS- 
It can be too data-heavy for some
It can take time to learn how to use all of the tools
UBERSUGGEST-
Ubersugest is another SEO tool. This web-based software includes a wide range of tools to help users improve their SEO. This includes backlink tools, keyword research, and keyword ranking tools, and website audit tools. The nice thing about Ubersuggest is the brand offers competitively priced monthly subscription options and lifetime access subscriptions. Ubersuggest integrates well with DashClicks, OpenMoves, SmartSites, WebFX, and Screaming Frog Services. Here are some top features of this tool:
Use the backlink tools to find good backlink opportunities
See how your competitors are ranking and what keywords they're ranking for
Find out what content is ranking in your niche
Get new keyword ideas to improve your content and SEO strategy
Track your own rankings overtime
Create detailed website audit reports that show what changes are necessary to improve search rankings
Find out what copy and keywords changes have more success with the A/B testing calculator
PROS & CONS- 
PROS-
User-friendly layout and design
Prices are affordable and lifetime access is available instead of having to continue to pay year after year
Has a nice variety of included features
CONS-
There are limits to each price point, so bigger teams will need to pay more
YOAST-
Yoast is yet another option to consider when looking at SEO software options. With Yoast, there are a variety of tools that make it easier to improve keyword optimization when writing web content so that your content is optimized and you're prioritizing the right keywords. It also includes a built-in readability tool to make sure that your content is easy to read. Yoast also includes a variety of linking tools to help improve linking within your site. This plugin integrates well with WordPress, WooCommerce, Magento, Drupal, and BuddyBoss. Here are some of the top features of Yoast:
Keep track of keyword usage and keyword optimization while writing
Internal linking suggestions to improve internal linking strategy
Easily market links as no-follow or do-follow
Alerts to help avoid outdated content
Get powerful insights into the content that you created
Easily redirect old and broken links
Preview your webpages in Google
Preview your page on social media
PROS & CONS-
PROS-
The design is simple, making the tool easy-to-use
Integrates well with WordPress
Includes tools that help users improve their writing, while also improving SEO
CONS-
No true free trial is offered
The free WordPress plugin has very limited capabilities, making it necessary to purchase the premium version
RANKMATH PLUGIN-
Rank Math comes from the creators of "MyThemeShop". RankMath is called WordPress .org currently used on over 200,000 active WordPress websites. There is hardly any information about the company itself. Nor about the people who support the project significantly. The reason for this is probably that the company has its origins in India. Here are some features of Rankmath SEO-
Auto-Configuration — All you have to do is set a few options, and Rank Math will configure itself perfectly for your website.
Super Fast SEO Plugin — Even after packing so many features, Rank Math has a negligible load on your server, thus making it one of the fastest SEO plugins for WordPress.
Automatic Keyword Suggestions from Google — Get keyword suggestions from Google as you start typing letters in the focus keyword field of Rank Math.
New SEO Analyzer — Rank Math's built-in SEO analysis will give you SEO recommendations that you'd normally spend hundreds of dollars to get.
Elementor SEO – Deep integration with the Elementor Page builder. Now, you don't need to go back and forth between tabs to configure your page's SEO. Everything related to SEO for Elementor can be configured in the visual editor.
Page Builder SEO – The Rank Math plugin's content analysis works perfectly with popular page builder and themes like Divi Page Builder & Theme, WPBakery, Avada, Astra, Themify, Beaver Builder, Page Builder Framework, Schema theme, Flothemes, OceanWP, etc.
Optimize UNLIMITED Keywords At Once — You can optimize your post for up to 5 different keywords by default with the Rank Math plugin and can use a filter to optimize for unlimited keywords.
Image SEO – With Rank Math's perfect solution to add ALT & Title tags on the fly, to optimize images, showing inside the content, and that too for FREE, there is no reason to choose any other SEO solution that does not provide all the essential SEO features.
PROS & CONS- 
PROS-
Here are some of Rank Math's pros:
Intuitive user interface – It's easier to get around compared to Yoast and All in One SEO.
Quick SEO setup – Comes with a quick setup guide to implement important SEO factors.
The keyword comparison tool eliminates the hassle of using multiple tools to find keywords.
FAQ by Rank Math add-on allows you to add Schema for Google FAQ SERP snippets.
Site Audit inside the WordPress dashboard helps you to quickly find weak SEO implementations and errors.
Features that Yoast offers after charging a Premium, are free in Rank Math. For instance, automatic redirections.
Support is very good, quick to respond.
And it's completely free
CONS-
Migrating to Yoast SEO isn't easy – no native option to do so
AMP SEO isn't as extensive, plus the integration with AMP for WP isn't smooth.
Conflicts with other plugins due to being relatively new.
The free plugin business modal is bound to not sustain, so shifting towards premium plans is inevitable. When that happens, the plugin will lose its USP (Unique selling proposition).
influencer Marketing
What is Influencer Marketing and Why?
We have now understood as to who an influencer is and the types of influencers. But what is Influencer Marketing?
At a fundamental level, influencer marketing is a type of social media marketing that uses endorsements and product mentions from influencers i.e., individuals who have a dedicated social following and are viewed as experts within their niche. Influencer marketing works because of the high amount of trust that social influencers have built up with their following, and recommendations from them serve as a form of social proof to your brand's potential customers.
"True influence drives action, not just awareness" – Jay Baer
The social media platforms are expanding and evolving unremittingly. The marketing industry has had to change and adapt the new landscape to continue to reach consumers. The growth of social media users is substantial over the years and more than two billion internet users are using social networks. This trend is going to increase considering the mobile and mobile network usage. According to recent statistics, not only the audience size is becoming larger but also the time spent on social media is increasing. 
Weighing up the role of social media in consumers' buying decisions, marketers are exploring new ways to reach consumers on these platforms. One of the unique ways that has emerged out of necessity for better reach of the audience is influencer marketing. Over 92% of consumers believe reviews and feedback from family and friends over all kinds of advertising. Social media influencers are trusted as much as a friend by their followers. Marketers combine an influencer's trust relationship with their followers' size on social media to spread the word about their brand.
In influencer marketing, you push your brand's core message to the large set of target audience through an "influencer" in your field of business. The marketing activities are aligned around the influencers who can influence the potential buyers or customers. Instead of marketing directly to consumers, influencers get the word out for you and their popularity in the digital society leverages your efforts to reach a bigger audience. Influencer marketing intertwines with social media and content marketing. Influencers have hundreds and thousands of social media followers. Your brand can be exposed to them on their social media channels. It is a virtual word of mouth marketing, to be precise.
The key for marketing through influencers is segmentation of consumer attention. The real challenge for marketers in influencer marketing is to identify the 'right influencer' for their brand and the 'right spot' in purchase cycle to place them in.
Key components of influencer marketing strategy:
Define your business goals 
Choose a Type of Influencer Marketing Campaign aligning your goals with your influencer's image and reach
Identify and Define Your Audience
Discover the right influencers for your brand or business 
Track Your Outreach
Define key performance indicators (KPIs) and measure performance of campaign
Repeat
Why Influencer Marketing?
It is becoming increasingly difficult for brands to get attention on the internet. This is largely because every business, big or small, has invaded the online world creating an insurmountable amount of noise.
This has made consumers extremely skeptical about brands that indulge in self-promotion. That is why the demand for new, innovative digital marketing strategies has been on the rise. The increased popularity of influencer marketing is attributed to the desired results it is achieving. Customers rely more on family and friend's recommendations than on direct advertisement of a brand. It is quite natural if we look at it from personal context. If a sales guy shows up at your doorstep and starts explaining the benefits of a product, he cannot convince you to buy it, but if your neighbor recommends the same product it will influence your buying decision.Influencers are often real-life consumers who have in-depth knowledge about certain subjects. This gives them certain leverage and empowers them to motivate their followers to take desired actions.
An influencer connects your brand with target customers. Influencer marketing provides greater reach because an influencer not only brings their audience but also their audience's network as well. This will bring more traffic to your site and more awareness about your brand on social media.
In order to understand why influencer marketing should be an integral part of your business, let's take a look at some of the lucrative advantages.
Amplified Brand Awareness
Precise Targeting
Enhanced Credibility and Trust
Renewed Content Strategy
Increased Audience Engagement
Improved Search Engine Rankings
Increased Conversions
This generation consumers are keeping visual ads out of their sight and avoiding commercials. According to a report by Digital News Report, 47% online customers use adblock technology. Today's customers are self-equipped to research about a brand or product on their own and majority of the time they want to hear about the product from a trustworthy person before they buy it. This is where influencer marketing is becoming more effective when traditional outbound marketing which is going through the downfall.
Here are some key statistics about social media and influencer marketing put together by Eric Burgess for 2017:
Customers using AdBlock technology: 47%
People trust recommendations from individuals over brands: 92%
Amount of web traffic driven by Facebook alone: 25%
Snapchat's annual user growth: 56%
Consumers using social media to make purchase decisions: 74%
Marketers judged influencer marketing to be effective: 81%
Marketers believe they get better customers from influencer marketing: 51%
Retention of customers acquired through word-of-mouth advertising: 37%
Marketers increasing budget for influencer marketing: 59%
According to a research study published by Kirkpatrick, influencer marketing can initiate 11 times more return on investment (in terms of reach, engagement, and sales) than other forms of advertising annually. Marketers use influencers in a variety of ways such as content promotion, product launch, content creation etc. 
SocialMarketing
Advantages of Social Media Marketing
We now are aware of Social Media Marketing and its role in the current digital world. 
Can anyone share the advantages of Social Media Marketing? What is the role of Social Media platforms in getting the conversions?
Well, social media is considered to be the one of the best platforms that allows users to engage and share the content of their choice/preference which increases the brand awareness. The brand engagement increases when people / audience is able to relate to the content and gets connected emotionally to the brand. This increase in brand engagement increases the exposure and in turn gets sales.
Hence, your presence on social platforms is necessary, as the more people get to know about your brand they start visiting your website and learn more about the products / services offered by you. Here, your website plays an important role in converting your audience to leads and then to customers. Hence, its of utmost importance that your website is attractive and clear in order to pull the audience.
It is also seen that, the more you post on the social platforms your ranking in the search engine increases which in turn increases the traffic to your website. The basis behind this is the relevant content. 
If you provide the relevant content to the audience who are on these social media platforms, your website starts ranking better in the search engine results page. The Likes, Share and Comments on your content play an important role here.
It has been observed that 61% of marketers use social media to increase the lead generation. Social Media Marketing acts as great source to increase the lead generation as many viewers get to know your brand. 
Once the brand awareness is created through social media marketing, this attracts the prospective audience who will be interested in your brand thus making way for lead generation and in turn conversion takes place. 
Another advantage of Social Media Marketing is, it creates a path to promote your brand. These social media platforms allows users to share the content which becomes viral and in turn shared by many others thus forming a chain audience.
Social Media Marketing is a tool which allows you to plan/program in such a way that helps in providing better experience to the customers from your brand.
Google Ads
Understanding Google Ads
So far we saw how to reach our audiences and rank in the SERPS organically.
We have built a website, we worked on SEO- but the fact is- organic methods surely takes time to reach the audiences
Now we are working on our own websites but suppose in near future you work for a client or maybe if you want to grow your brand can you wait till the organic marketing methods give you the results? No, we need to do something that would give us results immediately. We want to reach out to many people in a short span of time. What do we do to get the results immediately? – We "advertise"
We have grown listening to and watching "advertisements"  
So what exactly is advertising?
Where do you see the ads?
Do you remember any recent ads? 
Did you see a serial or reality show? How much do you think is the air time? 8-9 mins – because the advertisers know people watch those channels so they show the ads – same goes for hoardings , newspaper(prices based on centimeters,publications etc),buses, metros ,autos etc. Every channel has its own advantage. In tv you can instantly reach hundreds of people. Hoardings- when there are multiple hoardings people constantly get reminded of you. 
Why do you think advertising is done? – Advertising is basically done to reach customers in a short period of time using money.
Besides investing money on ads we also have to understand the different online advertising channels work, how to reach the audiences in these channels, what message should you put in, how much budget do you invest, how to optimise your ads in these channels?
Optimisation – is a continuous job in digital platforms –  you will have an opportunity to fine tune. For example- if you want 10 sales for 100 rs – maybe initially you might spend 300,400- so you need to optimise- this process is quite difficult in traditional method isn't it?
But what advantage do online ads over traditional marketing? 
Cost effective- costs less
Faster
Manageability- Digital is very flexible, you can change creatives, targeting, budgets, you can pause it anytime you want. you cannot change the inputs every now and then in traditional , optimisation
Target audience – traditional marketing might have higher reach but wont have targeted reach, target people based on their geo, demo, device, marital status, behaviour, based on past activities, kind ofcontent they consume – can be done through keywords they search in search engines, contents they mostly look for etc.    
Measure the performance- how many times has the ad being displayed(impression) ,how many people visited, how many clicks you got, how many conversions(performed an action), which ad is working well for you
Collection of data is easier,
Tracking people – we can perform remarketing (retaining people's attention) we see so many brands these days, what kind of brand we look for more? Ok tell me about a brand you discovered recently – as in you never saw it before but recently you saw it and it caught your attention. 
So now we need to understand 
What are the components?
What are the various channels?
How do we pay/set a budget?
Formats of ads – text ads, display ads, video ads etc
Components – Before starting ads we basically need to understand – our goals, budget, targeting options, manage(creatives , landing page), how do we measure, which channels are available ( can you tell me what channels have you been seeing – website, social media channels, gmail, mobile apps, video streaming(youtube), search engines ) – basically wherever there are people there are ads?
To define advertisement we can say – Advertising is using somebody else's channel to showcase your message for a price(NOTE).
But how do you advertise in different channels? How do you ask other channels to advertise your brand? Suppose you want to advertise in 1000 channels do you approach each one of them individually? So we depend on networks- for example you want to buy a property with some specifications. Do you go property hunting on every street in hyd? No rather we go to a real estate agent. Here networks work as a real estate agent , it's intermediate between you and the channel. You have to tell the network about your goals and specifications. 
Example of such a network – google(search engines, youtube, Gmail, spots on mobile apps etc), 
Do you know how much Google earns from ads? 160.74 billion as of 2019, facebook- 50-60 billion, recently amazon is competing with these networks.
All these networks have inventories – databases, and they also use AI which are faster and smarter.
Now Each social media channel has their own systems – Facebook – takes care of facebook as well insta, instagram again has its own advertising system , similarly linkedin, pinterest etc have their own.
Where have you seen ads on facebook? – Instant articles(like you see an whole article from some website), in between feed, marketplace etc
Have you heard of native ads? – ads don't look like ads , outbrain, yahoo , taboola. Ads are annoying so people usually block ads, so they came up with native ads, looks more like an article.
Text Format- 
Search Network- Text Ads, PLA (Product Listing Ads) / Shopping Ads
Display network- Text Ads, Banner Ads, Video Ads Rich Media Ads
Types of ads- 
Text Ads- Search ads
Display Ads (Banners on Websites, Mobile Apps, Popup)
Social Media Ads 
Video Ads
Emails
Native Ads-yahoo, linkedin
Types of campaigns-
Search Campaigns
Display Campaigns
Video Campaigns
Shopping Campaigns
Universal App Campaigns 
Smart Campaign
Google Adsense
Monetizing Website Using Google Adsense
Monetization Of Website On Adsense – 
There are many ways to monetize your website traffic, and most of them are related to advertising third-party products or services to your website visitors. There are many advertising programs that can help you earn money nowadays, but the most popular is Google AdSense.
This advertising program was launched in mid-2003 by Google and is currently the most popular advertising program on the Internet. It provides a good opportunity for webmasters and site owners to monetize their traffic – every year, Google pays over $10 billion to its publishers. If you've asked yourself, 'What is AdSense, and how do I make money with AdSense?' the following article will give you some hints.
What are the Eligibility Criteria to Make Money with Google AdSense?
Here are some eligibility criteria for making money through Google AdSense:
You must be 18 and above
You must be the owner and controller of your site
Your site should have original content
It must comply with Google content policy
It should have technical pages and clear navigation
It should have sufficient traffic
 Google AdSense Best Practices
Google AdSense's best practices will help you make more money by increasing your ad revenue and growing your website.
Look for the best ad placement for your website. 
Regularly post content.
Promote your content and your website.
Try different ad units.
Make your ads responsive if needed.
 Steps To Monetise On Adsense-
Signing up – 
To create your AdSense account, follow these steps:
Click Sign up now.
Enter the URL of the site that you want to show ads on.
Enter your email address.
Choose whether you'd like AdSense to send you customized help and performance suggestions. (Yes Recommended)
Click Save and continue.
Sign in to your Google Account.
Select your country or territory.
Review and accept the AdSense Terms and Conditions.
Click Create an account.
A pop up appears asking for billing details put in the right address and other details carefully. 
Getting Started – After you create your AdSense account, you need to activate it so you can show ads on your site and earn money.
To add ad sense code to your website.
When you sign up in google AdSense account, It provides you a unique code that has to be placed on your website
You can add the code by connecting AdSense with your website by using the google site kit plugin. Here it automatically gets embedded on the website without you making any changes in the code.
You can also add the code manually, on WordPress > appearance >   theme editor, and embed the code within thetag, as instructed by AdSense. 
Click on "I have added the code on my website" after you add the code on your website and click on continue. 
It takes up to a few days/weeks to get approval from Adsense
Steps to add ads on your website – After you get the approval from google adsense, you can start off with adding the ads of other brands on your website and start earning.
The Text and display ads option will give you access to as many ads as possible, so let's use that as an example. On the next page, you can choose a name for your ad:
Your audience won't see this name, so try to pick something descriptive and easily identifiable. From there, you can set the ad's dimensions, although it's safest to stick with one of the recommended sizes.
You can also customize the optional settings however you'd like, in order to tweak your ads further. When you're done, click on Save and get code at the bottom of the screen. This will save your ad settings and provide you with a unique code:
After that, all you have to do is add this code to your WordPress site. The exact steps you'll take depend on where you'd like your ads to be displayed.
First, navigate to Appearance > Widgets in your WordPress dashboard. You can then add a Custom HTML widget by dragging one into your site's sidebar:
All you need to do next is paste in the ad code and save the widget.
Check how the ad looks on your website.
Remember to place the ads properly on your website to earn maximum from them. Follow the heat map below provided by Google Adsense in order to have proper placements of the ads
You can make pretty good money with Google AdSense, but it is not a program where you can get rich quickly. There are some common-sense rules to follow that will help you lay the groundwork for high and stable earnings:
Love the topic you are writing about and know a lot about it.
As well as producing unique and relevant content, do it on a regular basis to make Google aware that your website is being updated constantly with fresh information.
Do not try to cheat Google with any kind of "artificial" clicks.
Do some research to find the most profitable niches in terms of CPC and search demand. Build your content plan according to these insights.
Youtube Monetization
Monetizing YouTube Channel Using Google Adsense
YouTube is the largest video portal on the internet and the second-largest search engine in the world. Being such a great platform youtube helps publishers to monetize their videos/channel. There are many YouTubers globally who earn their living from youtube. There are many Blogs  one can follow to earn a lot from youtube.  Do you wanna learn how you can earn from youtube?
Minimum eligibility requirements to join-
The YouTube monetization policies are a collection of policies that allow you to monetize on YouTube. If you're a YouTube partner, your agreement including the YouTube partner program policies requires compliance with these monetization policies in order to potentially earn money on YouTube.
YouTube Partner Program application checklist –
Everyone who meets the threshold can apply for YPP, but you do need to meet some of the guidelines to be considered. This checklist is meant to guide you through the application process.
Make sure your channel follows the policies and guidelines. When you apply, you'll go through a standard review process to check if your channel meets the policies and guidelines. Only channels that meet them will be accepted into the program. YPP also constantly checks channels in the program to make sure they continue to meet the policies and guidelines.
Enable 2-Step Verification for your Google Account, which means you'll protect your account with both your password and an additional device. Not having 2-Step Verification may cause a delay in your application review, so it is highly recommended.
Have at least 1,000 subscribers and 4,000 valid public watch hours. When we assess channels for YouTube Partner Program access, we need context. When you reach this threshold, it usually means that you have more content. The threshold helps us make a more informed decision about whether your channel meets the policies and guidelines. You can only apply for YPP once you reach this threshold.
Sign YPP terms. You can ask to be notified when you reach the subscriber and public watch hour threshold. Once your  channel meets the threshold, follow these instructions:

Sign in to YouTube.
In the top right, click your profile picture > YouTube Studio.
In the left menu, click Monetization.
If you're under the threshold, click Notify me when I'm eligible to get an email when you've reached 1,000 subscribers and 4,000 watch hours over the past 12 months. If you meet the threshold, click Start on the "Review Partner Program terms" card.
Once you've signed the term, the step will be marked with a green "Done" sign on the "Review Partner Program terms" card.
Make sure you only have 1 AdSense account. As part of the application process, you'll need to connect an AdSense account to get paid.

Click Start on the "Sign up for Google AdSense" card.

If you already have an AdSense account, use the one that's already approved. You can link as many of your channels as you want to a single AdSense account.
 If you don't have an AdSense account, you can create one by following the on-screen instructions.
Once you've connected your AdSense, the step will be marked with a green "Done" sign on the "Sign up for Google AdSense" card. Then fill out the information carefully.
Get reviewed. Once you sign the YouTube Partner Program terms and connect an AdSense account, your channel will automatically be put in a review queue. The automated systems and human reviewers will then review your channel's content to check if it follows all of the guidelines. You can check your application status anytime at https://studio.youtube.com/channel/UC/monetization.

If you're accepted into YPP: Congratulations! You can now set up ad preferences and enable monetization on your uploads.
If you're rejected from YPP: Reviewers found that a significant portion of your channel doesn't meet policies and guidelines of YPP You can re-apply 30 days after your rejection.
 
Google Analytics
Understanding Google Analytics
Google Analytics is a web analytics tool that every serious website owner should have. It allows you to track a vast range of data concerning your site performance, traffic, and even user behavior.
It gives you a quick and easy way of finding out all the vital metrics regarding your website, such as how many visitors you received over a certain period of time, how many of those people were unique visitors, and even their geographical distribution.
Other things you can find out using Google Analytics include:
Your social media metrics (for example, from which social network is all this traffic coming from)
Whether or not your site is easy to navigate on mobile devices
Which other sites are linking to yours and how much traffic you're getting from them
The amount of traffic you're generating from other sites compared to search engine queries
Google Analytics can help you gauge the effectiveness of your digital marketing strategy by showing you a breakdown of where your traffic comes from so you can identify the key targets for your marketing activities
You can even find out where your visitors go after they leave your site
The tool also helps you determine your conversion rates (the percentage of visitors who become paying customers)
You could even apply such metrics to help you identify the number of visitors who sign up for your email list
It can also help you to streamline your website's design and coding to improve load times.
Why Do You Need To Use Google Analytics?
A firm understanding of the Customer Value Journey is vital to any successful marketing campaign. The customer journey is basically the process that a customer goes through from their first interaction with your brand until their last. It involves the following stages:
Acquisition: This involves building brand awareness among interested users
Behaviors: This includes boosting engagement to get people to interact with your business
Conversion: This stage involves converting those prospects into actual paying customers.
This makes up the core of marketing funnels, and tracking and measuring these metrics is vital. Google Analytics allows you to easily capture all the data so you are able to see which of your marketing efforts are working and which aren't. When you have such easily accessible digital analytics, you can now make better-informed business decisions.
When Do You Need Google Analytics?
You can use Google Analytics for a range of different purposes. In the section below, we will quickly review three of the most common applications of Google Analytics.
Analytics For Marketing
The insights you can gain from Analytics reports can be vital to improving your marketing. Data collected can help you answer a range of questions about your marketing efforts:
How much traffic is driven to your site by different marketing channels?

Which websites refer to the most visitors?

Where do your site visitors live?

What is the conversion rate of visitors from different channels?
The answers to those questions will help you better tailor your marketing efforts. They can show you the channels to invest in and those to move away from. They can also help you better define your target audience, amongst many other helpful insights.
Analytics to Improve Site Performance
Analytics reports are also the perfect place to learn about your site and those people who use it. In this area, the questions which the platform help you answer are even more plentiful:
Which of my pages get the most traffic?

Where on my site, do visitors leave?

How quickly do my site's pages load?

Are load times longer for visitors using mobile devices?
Those kinds of insights give you practical ways forward for improving your site performance. Rather than a vague aim of improving traffic, you can have a more concrete objective. You might, for instance, learn that your blog posts get a lot of traffic— that could tell you that producing more and promoting them well could help boost traffic even further. 
Analytics to Aid Your SEO
Google Analytics insights are also invaluable for informing your SEO. The platform helps answer an array of questions about how users find and interact with your site:
How much search traffic is your site getting?

Which of your landing pages gets the most traffic?

What search queries do visitors use to find your site?

What's your site's bounce rate for visitors from different sources?
In SEO, as in many things, information is power. The more you know about your site visitors and your target audience, the better. Google Analytics is a platform that provides a plethora of data. Access and assess the right reports, and it can help boost the ROI you see from your SEO efforts. 
Hierarchy Of Google Analytics
Before you start using Google Analytics, you'll have to set up a Google account. This means you must have a registered Google Account email address and password.
Once you've created a Google account, that doesn't mean you automatically have access to GA — rather, you have to register for Analytics (which we'll review how to do in the next section). But the important thing to note as you go to set up GA is that you can only access the tool by using a valid Google account.
Additionally, to set up GA properly, you'll want to understand the various layers of the tool — specifically, the hierarchy.
Google Analytics Hierarchy
Here's a look at the GA hierarchy:
Let's dive into each of the sections within the hierarchy.
Organization
The organization is at the highest level. It represents a company. For example, our organization is One organization can encompass multiple GA accounts.
Organizations are recommended for larger businesses, but not mandatory.
Account(s)
Accounts are not optional. Using Google Analytics requires at least one (sometimes several) accounts.
Important details:
You can assign one property to each account or multiple properties to one account. Every account can hold up to 50 properties.
You can give user permissions for an entire Analytics account, a property in an account, or a view in a property.
You might be wondering, "What's better: creating a new account for every property or adding every account to the same property?"
It depends on your use case and goals.
For example, suppose you have one website — the Stark Industries corporate site — and five subdirectories, including the Stark Industries blog, careers section, media resources, case studies, and investor relations information.
You want to create separate properties for each subdirectory so the people on each team can look at how their portion of the site is performing, as well as the larger site.
But maybe you have another site that discusses Tony Stark's work with S.H.I.E.L.D. You want the S.H.I.E.L.D. team to see data for this subdirectory, but you don't want them to see data for the rest of the website. You create a new account and property for the S.H.I.E.L.D. site.
Property
A property is a website or app. Each property can support up to 25 views.
View
At the minimum, you need two views per property:
One with zero configuration — essentially the "raw" version of the view
One with filters set up to exclude any traffic from within your company (i.e. a filter for your IP address) as well as bots and spam traffic
A view only captures the information after your filters and configured settings have been applied. And once you delete a view, that data is gone forever. For those reasons, it's critical to keep an unfiltered view of your data.
How to Set Up Google Analytics?
Getting started with Analytics is nice and simple. You first need to set up a Google Account. If you already use Gmail, Google Drive, or other tools, you already have one. If not, it is easy to set one up. When you have got an account, log in to it, and you can get started setting up GA and adding Google Analytics to a website. 

The above graphic is from the Google Analytics homepage. It shows you the easy three-step process for setting up the platform. When you are ready, click the signup button. That will take you to a page where you need to start providing information about yourself and what you will be using Analytics for: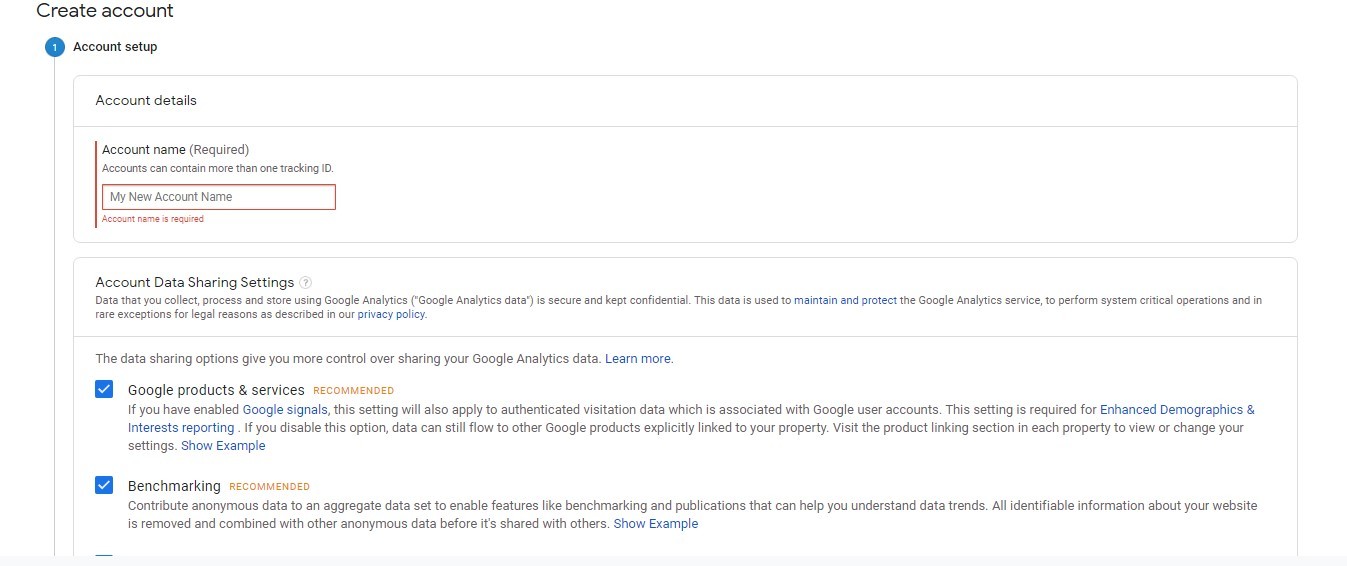 This part of the process is no more complicated than following on-screen instructions. Once you have chosen an account name and made some basic choices, you then select what you want to measure.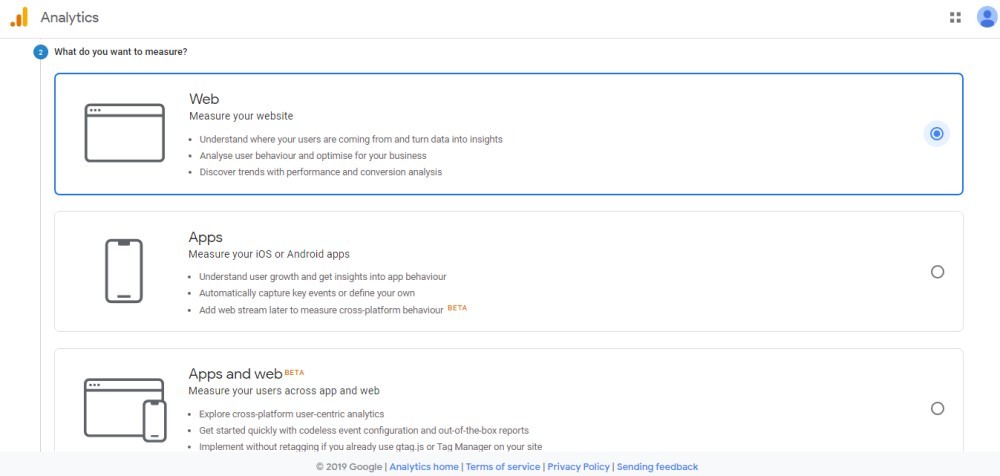 The final step in the account setup process is to enter the exact details of the site you need to track. Once you have created your Analytics account, you will be able to add up to 50 different sites to track. For now, though, enter the URL you want to link to your account. 
Clicking the create button will get your Analytics account up and running. It will also provide you with your tracking code for the site which you chose to track. That tracking code is what allows Google Analytics to collect data from visitors to your site. Your next job is to add the code to your site. 
How to Add Your Tracking Code?
You need to add your tracking code to every page of your website. Or at least to every different type of page your site has. By adding the code to the header or footer, you can add the code to your whole site.
The tracking code needs to be added right after the < head > tag of your header file. If you have built your site using HTML files, that will mean adding the tag to those files. If you use a CMS like WordPress, you may also have the option to install Google Analytics via a plugin. If you search the WordPress plugins page for 'Google Analytics,' you will find a range of options (read the reviews before you choose). Then, all you need to do is to follow the instructions to install the plugin. 
With your Google Analytics account set up and the tracking code added, you are ready to get started. Analytics will begin tracking data straight away. While you wait for site data to build up, there are a couple of other Analytics features that are worth setting up. 
How to Set Up Site Search?
One of the many valuable yet straightforward features of Analytics is Site Search Tracking. This feature lets you collect and analyze data on how visitors use your site's search function. Once set up, the feature can give you lots of handy information, including:
Which queries site users search for.

How many times searches are undertaken.

Which pages searches most often lead to

How often a visitor leaves your site straight after performing a search.

Which pages visitors most often start searches from.
Getting site search setup is simple and shouldn't take more than a couple of minutes. As a starting point, perform a search on your site. You should take note of the URL that gets generated. Then head to your Google Analytics account.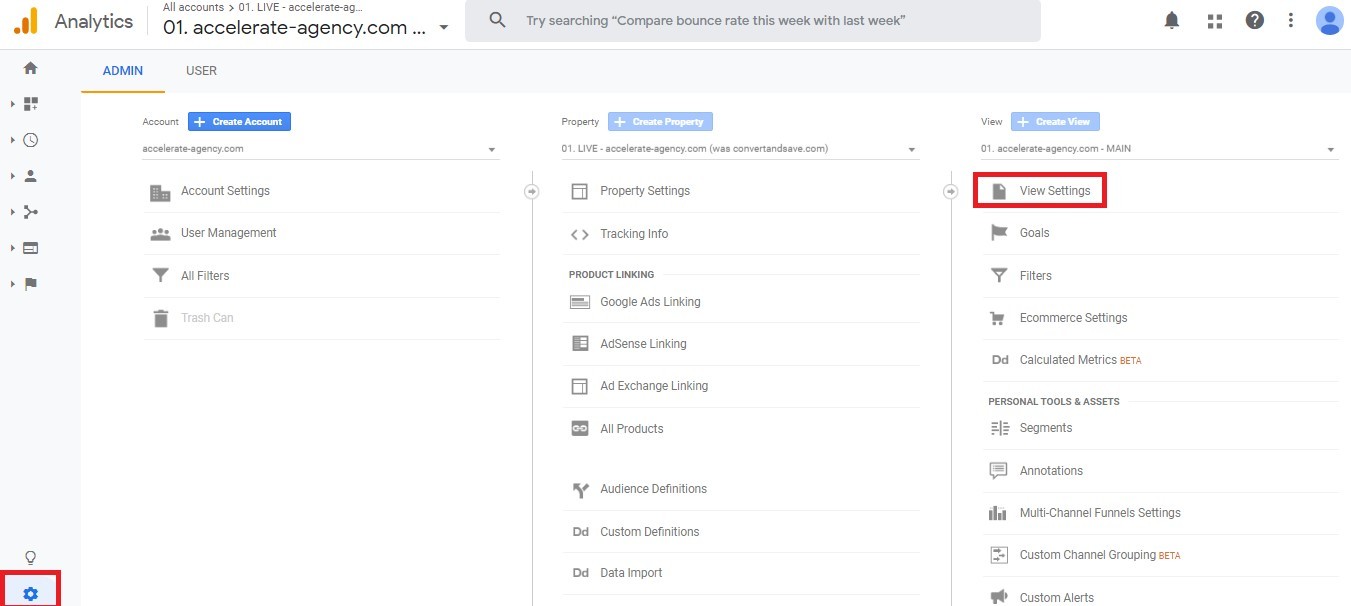 Open the Admin menu by clicking the cog symbol at the bottom left. Then choose the 'View Settings' alternative from the 'View' column at the right-hand side of the page; that will open a new menu. Scroll down it until you find a section titled 'Site Search Settings.'

Toggle 'Site Search Tracking' to the on position. What you need to do next is to fill in the 'Query Parameter' field. That is where the search URL you generated earlier comes in. For example, maybe you entered 'Google Analytics' into your site search. If you did, the resulting URL might look like this:
www.website.co.uk/pages/search_results?s=googleanalytics
In the 'Query Parameter,' there is an 's.' It's what indicates the part of the URL which displays the search query. If that was the URL you generated, you would enter 's' into the 'Query Parameter' field. Then, all you need do is click 'Done,' and the Analytics site search feature is set up.
How to Set Up Goals?
Most websites exist with a specific objective in mind. It may be to get them to buy a product. Whatever your site's goals, Google Analytics Goals provide a way for you to assess how well it fulfills them. That makes it another useful feature to get set up.
Your first stop is, once again, the Admin panel on Analytics. From there, select the 'Goals' option, as shown above. That opens a new page on which you should choose the '+ New Goal' button. You can then decide whether to use an existing goal template or create a custom goal.
Goal templates will satisfy the needs of most site owners. They are designed to let you track all the common goals which sites have. If you wish to create a custom goal, it is pretty easy to do so. 
First, name the goal. This name will appear on any reports which include data on the goal, so pick something obvious and memorable. You then need to choose one of the four different types of goals that Analytics allows for:

Every Analytics goal records a conversion when a site user performs a specific action. Which action that is, depends on the type of goal you choose. 
Destination – When a user visits a defined URL, a conversion is recorded.

Duration – When a user spends a certain amount of time on-site, a conversion is recorded.

Pages/Screens per Session – When a user views a pre-set number of pages in a session.

Event – When a user performs a specific action. For instance, clicking a link or playing a video.
Once you have chosen the type of goal you want to create, there are a couple of further steps. Google Analytics provides on-screen instructions. In general, you have to input the specific details of the goal you want to track. For instance, for a destination goal, you need to provide the URL to which a visit will trigger a conversion: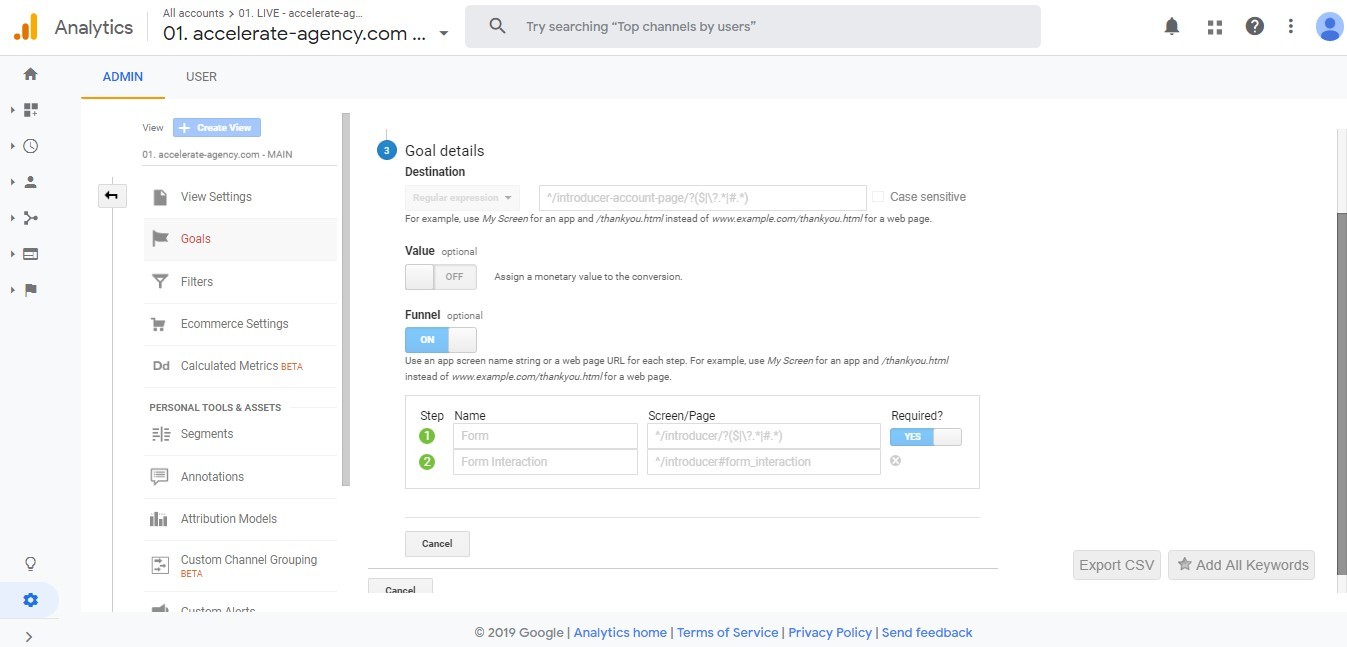 Duration and Pages per Session goals are simple to set up. There are just a few fields to fill in with information about the exact nature of the goals. Event goals are a little different. To set them up, you have to first set up 'Events' through Analytics.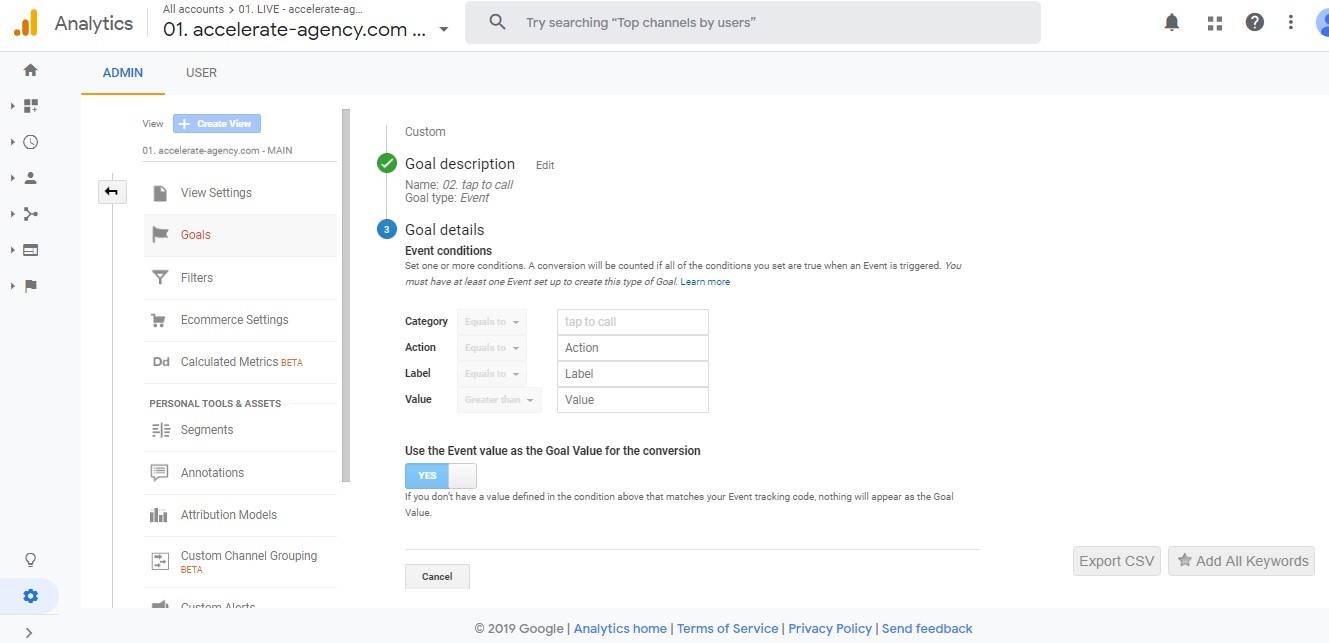 With events set up, things are once again simple. Choose the event you want a goal to refer to and then fill in the other simple fields shown above. Whichever type of goal you've set up, clicking on the 'Create Goal' button completes the process. Data related to the goal will then start being collected by Analytics. 
How to Add Additional Accounts and Properties?
One final thing you may wish to know before getting stuck into the Analytics reports is how to add a new account or property. To do this, head to the main Admin menu on Google Analytics.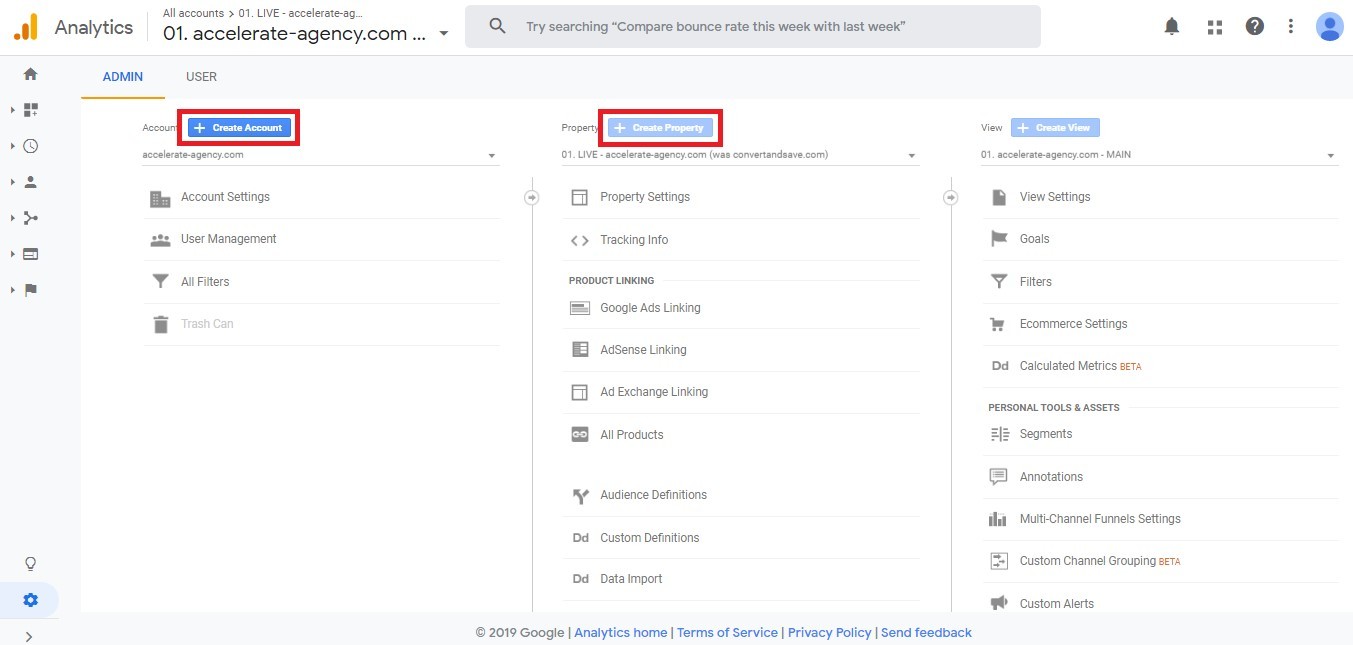 Two of the three blue buttons displayed there are 'Create Account' and 'Create Property.' Choose whichever is relevant to what you wish to do. You'll then be taken step-by-step through the process of setting up a new account or new property to track.
Google Analytics Dashboard- 
Once you've got Analytics and its features set up, you can sit back and relax. After 24 hours, the platform should have collected enough data for you to view your first reports.
You can access these reports through the Google Analytics dashboard. The home page of that dashboard is shown above and is also known as the Overview dashboard. It's where each of your visits to Analytics begins. On that page, you'll find everything you need to navigate through the platform.
Overview Dashboard
You can find links to specific Analytics reports down the left side of the dashboard. We'll talk about each of the main types of reports in detail later. The right-hand side of the overview dashboard has the first insights into your site data.
Graphs, tables, and other representations of your data are displayed on 'cards.' They're the panels on that right-hand portion of the home page. There are simple options attached to the cards to alter what they show. Typically, you can change the type of data displayed and the time period for which it's displayed. 
You will also often be able to click a link to head to the full report from which the snapshot has been taken. The format of those reports is the same as the homepage. They have cards with tables and graphs, which you can edit to show different information as you see fit.
There are five main categories of a report. Each category has a dashboard. You can access them by clicking the relevant link down the left-hand menu of Analytics. Each one provides you with a range of different reports. 
The Five categories of the report include- 
Real-time reports
Audience Reports
Acquisition Reports
Behavior Reports
Conversion Reports
After understanding all the data google analytics gives, you can make maximum utilization of it to understand your audiences better and also to make your performances up to the mark.